Your capital is at risk when you invest in shares – you can lose some or all of your money. Never risk more than you can afford to lose. Forecasts are not a reliable indicator of future results. The FCA does not regulate the cryptocurrency market, or buying and selling physical commodities like gold. Always seek advice if you are unsure about the suitability of any investment.
Do not risk putting another

pound in your bank account

until you read this book
Plus 3 ADDITIONAL BONUS GIFTS:

How to Invest in Gold
27 'Ticking Time Bombs' to Avoid
The Power of Dark Money That is Running The World
Plus a Digital Copy of Jim Rickards's Other Best-selling Book The Big Drop
JIM RICKARDS LAUNCHES URGENT MISSION TO EXPOSE SECRET "ICE-NINE" PLAN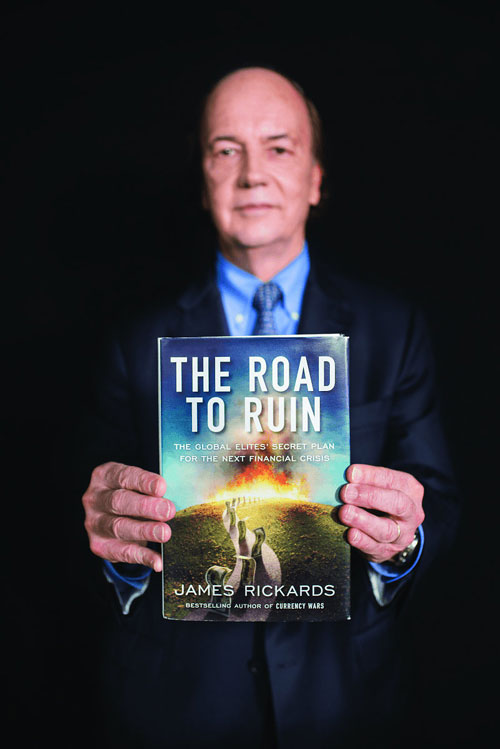 Hello, Jim Rickards here…
You may know me as the author of two New York Times best-selling books: Currency Wars and The Death of Money, both of which warn about the coming collapse of our financial system…
Or you may have read my best-selling book on the importance of gold, The New Case for Gold…
Indeed, as well as being recognized for my best-selling books, I have a high profile on popular financial television…
Turn on the TV and tune into CNBC, Fox, Bloomberg, or Russia Today and you'll likely see me on the channel:
But my credibility goes far, far deeper than anyone else you might know…
My work as a currency war advisor for the Pentagon, CIA and American national intelligence brings me into direct contact with the top echelons of the global power structure.
I've even been given top-secret national security clearance, too.

And what I've discovered as a consequence of my access has floored me. It's why I'm writing to you today:
If you have a single pound to your name…
A stock brokerage account or pension...
Or if any payments are paid direct into your bank... whether it's your salary… your pension… or any other income you might have...
Your wealth, your freedom and much more are at grave risk right now.
That's why, for a limited time, I'm rushing a FREE, hardcover copy of my best-selling book, called The Road to Ruin: The Global Elites Secret Plan for the Next Financial Crisis to the doorstep of any British citizen with a valid mailing address. (All I ask is that you take up my offer and pay just £3.95 for everything on offer today.)
Look, I'm not saying you should close all your bank accounts right now...
But, mark my words: It is fundamentally important that before you let another pound hit your bank account... you read this essential book.
You see, I believe, without doubt this is my most important work to date